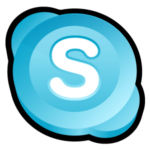 Conferencing technologies are viable options for holding meetings or to host guest speakers remotely.  No need to coordinate flights, housing, and other schedules. Simply sit in front of a screen and camera (alone or with a class or other group) for a virtual meeting.
ICT supports a variety of tools to facilitate real-time collaboration.  While this page will give you an overview of our services, we strongly suggest contacting us to begin a discussion regarding your specific needs!
Video Teleconference

Dedicated Video Conferencing
The Maxwell School has enjoyed the benefits of dedicated video conferences for many years. Such uses include job interviews, dissertation defenses, presenting to a distant class, and more. This equipment is common at universities and large corporations worldwide. It is well-adapted for group environments. In the Global Collaboratory we can switch between 5 cameras and 3 computers for the far side to view. ICT can handle IP (H.232) and ISDN (H.230) connections.
Contact Us / More Info
Web Conferencing (Skype / Adobe Connect)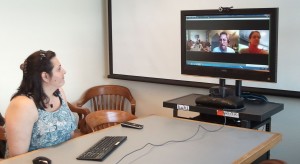 Desktop computer systems have a history of adapting expensive technology to everyday uses. Video conferencing is no different. ICT provides managed Skype software installs for assigned computers and a conference cart for small group situations.
Contact Us / More Info
Audio Conferencing
Sometimes, a regular telephone call is all that is needed. For 1-2 people you can use your office speakerphone. When you have a larger group ICT can provide a conference phone that can accomodate about 20 people. The Global Collaboratory is designed to handle audio conferences for a full room. We can even wire the Public Events Room for large telephone conferences.
Three-way Phone Conference
Single-line campus phones (most faculty offices) have threeway calling built-in. While you are speaking with one party, simply press the flash button, dial the second person and speak with them, then press the flash button again and all three of you are joined together.
Single Line Instructions
Meet Me Conference
The university offers two conference lines that each handle about 30 callers. You must request use of the service ahead of your meeting. There is a per-minute use charge applied to your campus phone line. This service can be used in addition to a speakerphone or ICT conference phone.
Setup a Meet Me Session
Call ITS Telecom (x4730 option 0) to make arrangements.

They will need to know the start and end time of your meeting.

They will give you a local 315- phone number and a 1-800 phone number.
Day of your Meet Me Session
First person to call either number will hear the phone ring continuously until a second person calls.
Each caller will then connect right to all the other callers.