Welcome to the Maxwell School Research Computing Support site!
The Information and Computing Technology (ICT) Group at the Maxwell School provides Maxwell faculty and students complete support for research projects that require high level computing resources, security plans, data and grant applications and much more.
We can tailor our resources to meet most needs no matter how large or small.  Please contact us at research@maxwell.syr.edu for further information.
We are excited to work with you!
Featured Maxwell Student-Researcher: Audrey Dong
Public Policy, Governance, and Data-Driven Research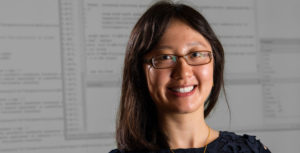 Discover how Maxwell faculty and students are engaged in empirical research on issues affecting us as global citizens every day.
Technologies Used