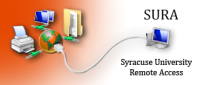 SURA is a simple utility for establishing a secure connection to Syracuse University computing resources. Using SURA will allow you to:
Access University network drives (H and G drives) *
Easily establish a secure Virtual Private Network (VPN) connection from nearly anywhere on the internet to Syracuse University's computing network
Find and connect to network printers *
Access your e-mail through a web-based interface
Connect to your dedicated office PC through a Remote Desktop connection *
Who can use it?
Anyone with an active Syracuse University NetID account and a Windows XP or Vista computer may use SURA. Please note that Microsoft's .NET 2.0 framework must be present on your remote Windows XP computer for SURA operate correctly.
Why should I use it?
It gives you secure access to the data you need when and where you need it.
* Your access to certain SURA functions may vary based on to your role at Syracuse University and your individual access privileges granted to you by your home department.