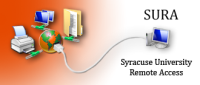 SURA is a simple utility for establishing a secure connection to Syracuse University computing resources. Using SURA will allow you to:
Access University network drives (H and G drives) *
Easily establish a secure Virtual Private Network (VPN) connection from nearly anywhere on the internet to Syracuse University's computing network
Find and connect to network printers *
Access your e-mail through a web-based interface
Connect to your dedicated Windows office PC through a Remote Desktop connection (not available for Apple office computers) *
Full documentation on SURA is available here.
The SURA utility can be downloaded here (SU NetID login required).
Who can use it?
Anyone with an active Syracuse University NetID account and a Windows computer may use SURA.  Please note that SURA is only available for Windows computers.
Why should I use it?
It gives you secure access to the data you need when and where you need it.
* Your access to certain SURA functions may vary based on to your role at Syracuse University and your individual access privileges granted to you by your home department.