Connection Instructions
To access your VM via remote desktop from a laptop or home Macintosh, you will need to connect to Syracuse University's Virtual Private Network (VPN).  To do this download and run the SU VPN for Macintosh computers and then initiate the Remote Desktop connection.
Note:  You will need to login with your SU NetID for the above link.
Remote Desktop Instructions from a Macintosh Computer
Once you have set up your Macintosh VPN connection, you will be able to connect to your VM with a Remote Desktop session. If you have not already, open your VPN connections and log in to it by clicking on the VPN icon in the Apple menu bar.

Then you will need to download/install the latest Microsoft Remote Desktop app from the iTunes store on your Mac.
Please note that if you already have Microsoft's Remote Desktop client installed on your Mac, you should make sure it is the latest version (currently version 10) as older versions will not be able to connect.
Once the VPN is downloaded, connected, and MS Remote Desktop is installed, follow the instructions below to connect to your computer:
1) Open the Microsoft Remote Desktop client from your Applications folder.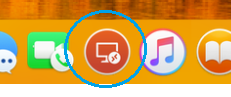 2. Click the New button to create a new connection.

3. When your VM is ready you will be given a computer name to connect to, please be sure to enter the computer name in the PC Name field using the full address, for example: MAX-YourVM.ad.syr.edu
4. In the user account field, select "Add user account" from the drop down menu.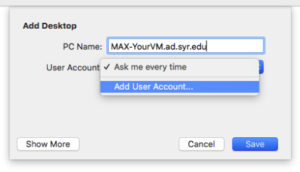 5. In the "Add user account" window type in your NetID like this: ad\NetID. Please note that you must use a backslash(\) and not a forward slash(/).
Leave your password blank (it will prompt on connect) and click the "Save" button.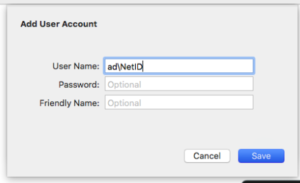 6. You will now see your account listed in the "User account" drop down box.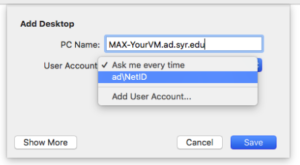 7. Select your account in the the "User account" drop down box, then click on the "Save" button.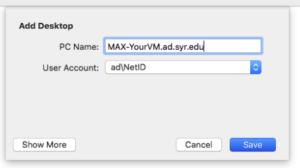 8. You will now see your new connection listed in the Microsoft Remote Desktop app.

9. Double Click on the new connection you created, then click Start.
10. Click "Continue" if prompted with a warning message concerning server name on the certificate.
11. Enter your NetID password and click "Done" and you will connect to your VM.