Connection Instructions
To access your VM via remote desktop from a laptop or home computer, you will need to connect to Syracuse University's Virtual Private Network (VPN).  To do this download and run the SURA (SU Remote Access) tool for Windows and then initiate the Remote Desktop connection.
Notes:  You will need to login with your SU NetID for the above link.  We recommend moving the SURA.exe app from your downloads folder to your desktop for easier accessibility.
Remote Desktop Instructions from Windows
Once you have set up your Windows VPN connection, you will be able to connect to your VM with a Remote Desktop session.  If you have not already, open SURA and log in to it.
When your VM is ready, you will be given a computer name to connect to.  Please be sure to enter the computer name using the full address, for example: MAX-YourVM.ad.syr.edu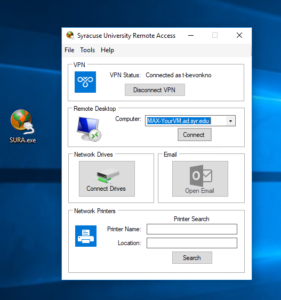 After you log in to SURA, when you connect to the computer itself, be sure you use the following for your username, substituting NetID for your own NetID: ad\NETID.  
Please note that you must use a backslash (\) and not a forward slash (/).