Accessibility in the Global Collaboratory (Eggers Hall 060) was a consideration during its last renovation.
Features of the Global Collaboratory  Include: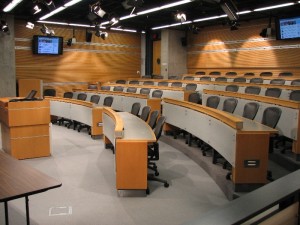 Ramp from the hallway down to the presentation area
Widened row of desks at the hallway level for wheelchair access
Wireless microphones for in-room voice amplification
Wireless assisted listening earbud devices
Wireless keyboard and mouse for computer access
Adjustable height teaching station
Lowered touch-panel system for control of room devices
While many of these are inherent to the room, some require a planning prior to the room use and setup assistance just before the event.  
Please email GC@maxwell.syr.edu for more information on other services such as:
Web video captioning
– Maxwell ICT can coordinate/assist you in captioning your YouTube videos.  We use CaptionSync and Rev.com which are third-party services providing accurate captioning.
CART (Computer Aided Realtime Translation) & Interpreter services
– We can help connect you with providers of ALS and other real-time  interpreting services.
More information can be found here Accessible SU & Office of Disability Services.