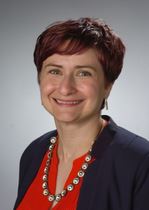 Associate Professor of Sociology
O'Hanley Faculty Scholar
Senior Research Associate, Center for Policy Research
How long have you been at the Maxwell School?
Five years.
What department do you work in?
Sociology and the Center for Policy Research.
Describe how you use technology in your research and/or teaching.
One interesting way that I use technology in my research is through the collection of face-to-face surveys using tablet computers, a mobile hotspot, and Qualtrics survey software. I am studying Vietnamese American fishers on the Gulf Coast following the BP oil spill, and the way I collect my data is by visiting boats and docks with trained translators and survey interviewers. We have six small and inexpensive Acer tablets so that six of us can be working at once, and one ATT mobile hotspot that we use to broadcast a Wi-Fi network. With that combination of tablets and hotspot, we can access our online survey in Qualtrics that is in both English and Vietnamese, and we can ask our survey questions right there on someone's boat or the dock. These little tablets and hotspot have traveled all across coastal Louisiana, Mississippi, and Alabama in all kinds of weather and conditions to collect over 300 surveys from Vietnamese American fishers! This research has been supported by NOAA, Mississippi Alabama Sea Grant, Mississippi State University, and the Maxwell School.
In the classroom, I teach quantitative research methods courses for Maxwell graduate students, so we work with Stata statistical software. We have used the labs here in Maxwell for in-person work and now the students can use the Maxlab Student Cluster to access Stata for their coursework.
What new technologies are you interested in using either in your teaching or for your personal use?
In the future, I plan to use ArcGIS more extensively to conduct spatially weighted regression and other forms of spatial analysis with my data.
Many thanks to Professor Schewe for participating in the ICT Newsletter!