By Tom Fazzio
Update Zoom Version
Zoom continues to refine their now-ubiquitous web conferencing platform.  Be sure to run an update occasionally, at least once a semester, on all your computers (including your office computer).  Yes, you want to install the 64-bit version if it is available for your device.
How to update: Upgrading Zoom to the latest version
Test Speakers & Microphone
Joining a Zoom session?  Don't click that tempting blue "Join with computer audio" button yet!  Just under that button is a little text link "Test Speakers & Microphone".  Click that.
Running the Test Speakers & Microphone feature is the quickest and easiest way to avoid audio trouble during your meeting.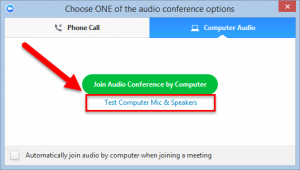 More information:  Zoom support testing computer or device audio
Record to the Cloud
Reminder that all Zoom meetings and webinars that had "Record to the Cloud" will copy those videos to the meeting scheduler's Kaltura account.  That is accessed through http://video.syr.edu and makes it easy to share the recording with others at SU or publicly.
More information about Kaltura, including how to add videos to Blackboard can be found on Answers.
Selected Feature Updates
Breakout Rooms:  Breakout rooms no longer need to be closed in order to rename or add/remove additional rooms.
Waiting Room Chat:  The meeting Host and Co-hosts can now chat back-and-forth with participants in the Waiting Room.  Waiting Room messages can be sent to all participants in the Waiting Room or just individual participants.
Stop Incoming Video:  Users in a meeting can easily disable all incoming video through in-meeting controls.  This may be done to preserve bandwidth for shared content, or to avoid mental fatigue from viewing multiple, active video participants.
Coming Soon – Class for Zoom
Syracuse University ITS will soon release Class for Zoom for everyone using their SU license of Zoom.  Class for Zoom is an application to expand the user experience of Zoom for remote students.  It will need to be installed on your SU domain computer by ICT once it is made available to us.  Watch for communications from ITS for more information.
Class for Zoom changes the visual layout of Zoom, creating a focus on the instructor and teaching assistants.  Instead of sharing only what is currently on your own screen, Class allows you to create tabbed shared windows with PDFs, webpages, videos, and more.  The students can self-select which shared item they want to see.