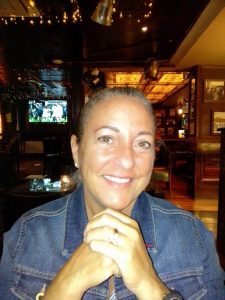 Name?
JoAnn L. Rhoades (not to be confused with the other JoAnn Rhoads on campus- she works in the Women's building.) Although she is definitely fun, I am quite possibly more cheeky.
Title?
Administrative Assistant I
How long have you been at the Maxwell School?
I have been at Maxwell since August 1, 2016. However, I have worked at the University since October 19, 2009. During that time I was temporary/part time in both Athletics (particularly basketball) and ODS (Office of Disabilities Services).
What department do you work in?
The Department of Anthropology and yes, I do shake up the bones!
How do you use technology in your research and/or teaching?
I use technology to access data for grad and undergrad students. Whilst working from home I used everything- Skype, Zoom, Teams, and Blackboard collaborate for meetings (there may be others but working from home has me a bit crazy so there may be more technology I have forgotten).
What new technologies are you interested in using either in your teaching or for your personal use?
I use technology mostly for work. Heck, I have been a member of Facebook since 2009 and still do not really know how that works!! My computer skills come in handy to use my laptop to search information and plan trips. I consider myself a world traveler and upscale vagabond. "Have toothbrush and passport will travel" is my motto. I have been to 10 different countries (and 2 dependencies or other territories). My epitaph will read…she once breakfasted in Hong Kong lunched in Taipei and dinned in Tokyo.
Many thanks to JoAnn Rhoades for participating in the ICT Newsletter!